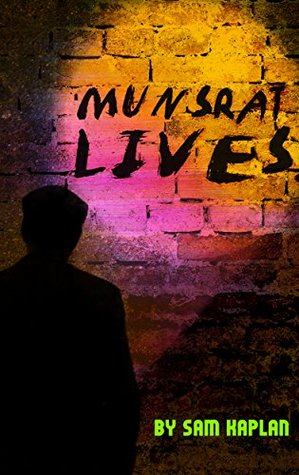 Munsrat has a plan. He has reached the point in life when it dawns on him that the next day's sunrise someday will not come, that he will soon be nothing more than some weed's nutrient. But rather than embrace and hurtle headlong towards the coming doom and feed the plant with human impatience, Munsrat concocts an elaborate plan. Two words form the end of his massive flow chart: "Munsrat Lives."
In the novel Munsrat Lives, the mysterious titular figure starts writing graffiti throughout the city—1990s boom-era Seattle.
The graffiti intrigues, divides and confuses Seattleites, including and especially Herman, Jimmy and Esprit, who must find out what Munsrat is up to before it is too late. Herman Stittle, a down on his luck port cop, is the first to come upon the mysterious Munsrat tags. He is pulled irretrievably into the puzzle of spray painted words. The Mayor of Seattle makes it a point to stop the Munsrat graffiti and puts Esprit in charge of the case. She can't stand her boss, doesn't care about her job and isn't even all that fond of Seattle. But she can't escape Munsrat, and soon begins receiving anonymous emails from someone who claims he knows Munsrat's plans. Jimmy is full of energy and ideas and embraces the Munsrat mystery with all the freshness and passion of youth. He knows Munsrat is up to something and must find out what it is.
These three lives intersect in a city increasingly obsessed with Munsrat and his graffiti. A statue of a troll, a tale-telling old man in a yellow slicker and the drawbridges of Seattle play crucial roles as the truth is slowly revealed. Munsrat Lives explores the love of mystery, the power of belief and the frustrations of modern life.
Graffiti as a movement is happening in 1990s Seattle. Reaching people. Touching lives. Bringing mystery. Sam Kaplan writes of the effect of carefully chosen words in specifically chosen places in his novel, Munsrat Lives. As the main characters come together, they align to chase down the Munsrat mystery.
Herman, Jimmy, and Esprit couldn't be more different. Herman is a man who feels his life is over. He works as a port cop and has no direction, no drive. Readers will feel sympathetic for Herman at the beginning of the novel. Though that will evolve into pride and support as Herman escapes his comfort zone and forms unlikely friendships with Jimmy, Esprit, and a few others at a concert that goes awry. He is soon inspired to change his life, be more open, take more chances. Readers will hope for Herman's success as the story evolves. Though what becomes of him isn't thoroughly described in this first installment of Munsrat novels.
Jimmy is a dreamer in love with dreaming. He loves coincidence, philosophy, and is often excited for a moment of intrigue that could appear at any time. He loves anticipation, the buzz of waiting for something big. He becomes obsessive with Munsrat graffiti and tries to track down the real artist. Which may be harder than he thinks after buildings containing identifying information are destroyed by arson. Readers will enjoy Jimmy's alternate attitude to things, his joy for life and mystery. He's the character that connects everyone else, the hub of the unlikely group. Jimmy's philosophical ramblings allow the author's hypnotic prose to lull the reader into a wonderful, imaginative perspective of life.
Esprit is the character that reader's will not like at the beginning of the novel. However, after she meets Jimmy and gains a new outlook on Munsrat, and life, her softer side is revealed, allowing readers to connect with her. As a City Security Official, Esprit is tasked with finding and stopping Munsrat so the mayor doesn't get a bad rep. This extends her world of hate. But what Jimmy shows her that Munsrat is a mystery for the enjoyment of the people, Esprit's hatred of life begins to shift. She learns that she can create her own path. Readers will see Esprit's spirit changing as she evolves into a character that they can connect with.
The plot of Munsrat Lives begins with a detailed plan of a bar patron. Then Herman finds the words 'Munsrat Lives' spray painted on a concrete wall in the port. Soon after, Herman is saved by a man in a yellow rain slicker who has seen the graffiti as well. The messages continue until nearly everyone in the city has read one of the tagger's statements. The graffiti brings Herman, Esprit, and Jimmy together, daring them to solve the mystery. Then the unlikely death of the man in the yellow rain slicker seemingly brings an end to the art. Was he Munsrat? When the words 'Munsrat Lives' appear once again, the end of the story merely becomes the end of the book with an unspoken promise of more for Jimmy, Herman, and Esprit.
Rating: 3.5/5 Cups