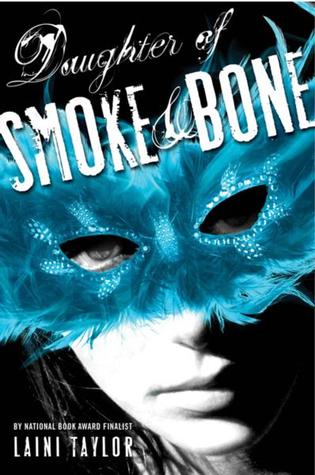 Around the world, black handprints are appearing on doorways, scorched there by winged strangers who have crept through a slit in the sky.
In a dark and dusty shop, a devil's supply of human teeth grows dangerously low.
And in the tangled lanes of Prague, a young art student is about to be caught up in a brutal otherwordly war.
Meet Karou. She fills her sketchbooks with monsters that may or may not be real, she's prone to disappearing on mysterious "errands", she speaks many languages - not all of them human - and her bright blue hair actually grows out of her head that color. Who is she? That is the question that haunts her, and she's about to find out.
When beautiful, haunted Akiva fixes fiery eyes on her in an alley in Marrakesh, the result is blood and starlight, secrets unveiled, and a star-crossed love whose roots drink deep of a violent past. But will Karou live to regret learning the truth about herself?
Daughter of Smoke & Bone is a fantastical world of hope and magic, pain and resurrection. Laini Taylor erases all boundaries of belief for the first book in her series. The novel is pure poetic prose steeped in pinpoint sharp detail and it easily draws readers into the world of Karou and all that has been hidden from her.
Karou is the main character and the entire novel revolves around her. She works as an errand girl for Brimstone, a Chimera (a creature made up of other creature features) who collects teeth. Being an orphan, she sees Brimstone and his helpers as her family, even though no one else knows they exist. Karou is an artist living and studying in Prague. She has blue hair, a desire to fly, and eyes permanently painted on the palms of her hands. Readers will enjoy her quirky, vengeful personality while reveling in the other-world she plays a part in. As the story evolves, Karou is forced to question who and what she is and readers will further connect with her as discoveries are made, pasts revealed.
The plot opens with Karou introduced as a unique art student who constantly draws beastly characters. It's soon shared with readers that those creatures are real and Karou was not only raised by them, but helps them with their work. Unfortunately, angels are planning a mass destruction of the portals that connect Brimstone's shop with the world. And one angel specifically, Akiva, has his sights set on Karou when he learns of her. But when he learns about her, the enemy Akiva becomes the only one who can tell Karou who and what she is.
Karou is the past. She's the peace. And she's the future of a remade world.
This first installment in the series draws readers into an astounding world of mysticism and magic. It's a whirlwind of whimsy filled with passion, love, death, destruction. The terrors of war and the hope of peace. Laini Taylor does a wonderful job in setting up the series. Now that the portals have been destroyed, Karou must find another way to reconnect with her family. Leaving an ominous to be continued at the end of book one.
Rating: 4.5/5 Cups