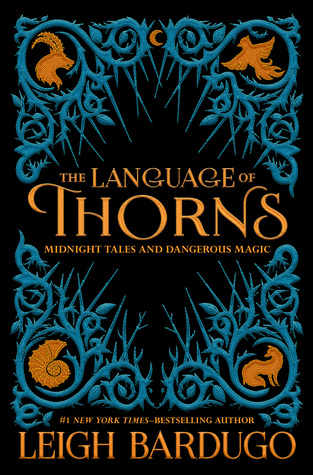 Travel to a world of dark bargains struck by moonlight, of haunted towns and hungry woods, of talking beasts and gingerbread golems, where a young mermaid's voice can summon deadly storms and where a river might do a lovestruck boy's bidding but only for a terrible price.
Inspired by myth, fairy tale, and folklore, #1 New York Times–bestselling author Leigh Bardugo has crafted a deliciously atmospheric collection of short stories filled with betrayals, revenge, sacrifice, and love.
Perfect for new readers and dedicated fans, these tales will transport you to lands both familiar and strange—to a fully realized world of dangerous magic that millions have visited through the novels of the Grishaverse.
This collection of six stories includes three brand-new tales, all of them lavishly illustrated with art that changes with each turn of the page, culminating in six stunning full-spread illustrations as rich in detail as the stories themselves.
Though I finished this book a while ago, I'm still thinking about a few of the stories that Leigh Bardugo included in her short story collection, The Language of Thorns. It was such a great collection of heartbreaking twists, surprising turns, and beautiful language. I've always enjoyed Bardugo's work, though I'm behind on Six of Crows and that duology. (I plan to read it ASAP.) I think fans of Bardugo's will absolutely love this collection if the release party I went to a couple of months ago is any indication. However, I also think fantasy readers, in general, will enjoy this collection and it will probably create a few more fans for the Grishaverse.
It's hard to say which character in this collection I felt the most connected to, but I'll dare to name Ulla from "When Water Sang Fire." I love the Little Mermaid fairy tale (all the different versions) and it was interesting to see how Bardugo took a villain and created a backstory while changing things around a little bit. Although I do think it helped that this was the longest story and therefore I had the most time to understand Ulla's character.
One of my favorite things about this book was that it was unpredictable. Bardugo isn't afraid to show someone's evil side and she often uses beauty and facades to cover it up -- making a plot twist even more jaw-dropping. I felt that each story had a surprise and sometimes I saw it coming while other times I did not.
I also really liked how Bardugo gave life to inanimate objects or personified animals in the stories. For me, this makes the fantasy world just come to life with possibilities and it really resonates the magical nature of the Grishaverse. If you haven't read anything by Bardugo but enjoy fantasy, I would definitely recommend starting with this book. It will introduce you to Bardugo's writing style while allowing you to dip your toe into the realm that she has created. Then you can happily, and excitedly, move on to her series.
Rating: 4/5 Cups
PS - If you want to read about each story then you can click on "Books Reviewed" on the banner and scroll to the bottom to the Short Story Collection section. Happy reading!